TITLE: Chaos Rises
AUTHOR: Pippa Dacosta
SERIES: Chaos Rises #1 (spinoff of The Veil series)
PUBLICATION DATE: June 29 2016
PUBLISHER: Self Published
SOURCE: ARC from author

'When the veil fell, any half bloods not strong enough to withstand Chaos were torn apart. Some, like me and my brother, survived The Fall. Most did not.
That's the good news. The bad news saw a whole other world try and devour ours. Demons, we call them. They came in countless waves. Destroying. Killing. Many people thought it was the end…
The Fall lasted a week.
Tens of thousands died.
Hell almost claimed our world as its own.
And then, from one day to the next, it was over. The veil came back, stronger than ever. I'm not sure if anyone knows how it was put right. But I do know it's been six months since The Fall, me and my brother are on the run, and the leftover demons aren't the most dangerous things in LA.
We are.'
***
"They have no defence against chaos." ~ Asmodeus, Ties That Bind, #5 The Veil Series.
Set in the same 'world' as the Veil Series, Chaos Rises, #1 The Chaos Series will feature some of the characters we love (and hate?), and also introduce some new faces.
The streets of LA are about to become a demon proving ground. Chaos will find a way. And as the Prince of Greed once said, "When chaos reigns, the veil falls."
The siblings Gem and Del have escaped the Institute and their lives as lab rats. They"re now under the protection of Allard, a powerful demon who uses them as henchmen. Gem is happy to have escaped the institute and staying under Allard's service is a conflicting situation and things only get worse when Del disappears. Desperate to find her brother, Gem meets Torrent, another half blood with unclear motives and enlists his help. But though Allard promised to help find Del, things get weirder as Gem finds herself trapped in a plot that had been twisted around her and her brother from long before.
Ever since i read City Of Fae and The Veil Series by Pippa Dacosta, i have become obsessed with her writing and spicy characters! So when i got an email with an ARC of Chaos Rises, i was ECSTATIC! In some of my earlier book tags i've always mentioned Chaos Rising as one of my highest anticipated reads, and it certainly did not disappoint! We very very briefly meet Gem and Del in The Veil Series but we never actually get to interact with them and it was so cool to read about them. I loved the subtle hints connecting the two series! If you've read The Veil Series, Gem and Del are like Stephan, half-bloods trained to kill demons by the Institute.
Gem is another kickass heroine, she's strong and a bit antisocial! I loved the part when she went to a restaurant and jumped at everything! Her situation is understandable, she's been experimented upon for a while and she's terrified the institute will be back for her. Her determination to save her brother was just adorable! And i'm a big sucker for bro-sis relationships, and this one was just awesome! Del and Gem have always only had each other and loosing Del is like loosing a part of herself.
Then comes Torrent, my first thought? Very intriguing. Then he started being snarky and well that just sealed the deal for me 😛 The descriptions of his demon form was seriously breath taking, When the author described his demon form i was soaking up every word and letting my imagination run wild, the descriptions were so vivid, and magical and you could feel how powerful Torrent actually was. I think those parts in the book just already made me love the book.
There were some parts where i really really really missed Akil and Muse!!! I really hope we get to see them sometime! and i seriously got all nostalgic and just…THE FEELS PEOPLE THE FEELS.
The book took on a whole different turn than i expected. For example the first meeting with Li'el. HAHAHA this is actually making laugh out loud when i remember my reaction.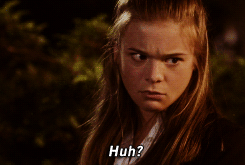 And then after a while, when i finally let that meeting sink in i was like:
Just Genius Pippa, Genius!!! NEVER EVER EXPECTED THAT AT ALL!!
Also awhile back, Pippa did a contest on facebook where readers had to propose a name for Li'el's restaurant (aka the prince of pride) and i proposed "Decadent-I." decadent sounds like some kind of exquisite cuisine and the 'I' part was because well-prince of pride! And my suggestion won! I was so so happy!!!!AND i get a thank you from Li'el so yeah that ROCKS!
Leave it to Pippa to leave you with an ending that leaves you begging for more!This is a spin-off so you can read it without having read The Veil Series but i highly recommend The Veil Series and everything else Pippa has written or will write! I'm super super intrigued about Del, and i think we'll find out way more about him in the next book and i'm looking forward to that!The demons are sexy, power hungry and dangerous-how can you go wrong with that combo? Funny, kickass heroines, awesome romance and action-packed plots, this book has definitely surpassed my expectations!