TITLE: Proof Of Lies
AUTHOR: Diana Rodriguez Wallach
SERIES: Anastasia Phoenix #1
PUBLICATION DATE: March 7 2017
PUBLISHER: Entangled Teen
SOURCE: ARC from publisher

Some secrets are best kept hidden…
Anastasia Phoenix has always been the odd girl out, whether moving from city to international city with her scientist parents or being the black belt who speaks four languages.
And most definitely as the orphan whose sister is missing, presumed dead.
She's the only one who believes Keira is still alive, and when new evidence surfaces, Anastasia sets out to follow the trail—and lands in the middle of a massive conspiracy. Now she isn't sure who she can trust. At her side is Marcus, the bad boy with a sexy accent who's as secretive as she is. He may have followed her to Rome to help, but something about him seems too good to be true.
Nothing is as it appears, and when everything she's ever known is revealed to be a lie, Anastasia has to believe in one impossibility.
She will find her sister.
Anastasia and her family have been on the move her whole life, never settling down anywhere until her parents die in a car crash, leaving her twenty something sister to look after her. But her older sister, Keira, goes missing leaving behind nothing but blood. Even though she hasn't been the best role model for Anastasia, she sacrificed everything to take care of her and Anastasia will stop at nothing to bring her home, even travelling across the world and finding out that her parents have been hiding secrets. She's walking into a trap and she knows it but how else would she get her sister back?
Proof Of Lies was a pretty unusual read for me, I don't usually read mystery books but i really liked it! From the very beginning, we're thrust into the action and the whirlwind of clues, traps and deception. I'd say this book is Taken meets Abduction(the one with Taylor Lautner).
I really liked Anastasia! Especially when she was about to catapult purple ice cream onto this irritating woman's designer white dress with a spoon! She did have an amazing character growth from the bitter teenager who always fought with the sister to a grown up who realized how much her sister had sacrificed for her and who would do anything to get her back. She really clung to her faith that her sister was alive even though everyone was telling her otherwise. And when the police turned out to be as worthless as a poop, she decided to take things in her own hands. She was like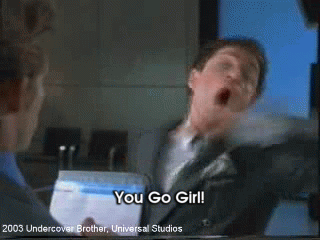 The author does a great job at mixing reality in this book! I won't spoil but some of the events in this book actually happened in reality! The author used these events to create her own plot and theories and it was just awesome!
The characters were so realistic too!!! Keira, Anastasia's sister, was not shown as a stereotypical saint that sacrificed her future to take care of her sister. Yes she made a few sacrifices and she loves her sister but she can't help the growing resentment she feels for Anastasia. And Anastasia can't help but resent her sister a little too since Keira's off throwing parties most of the time. I loved that they didn't have a clean slate relationship but rather an honest and flawed one even though they loved each other! Great realism there! My favorite character was Charlotte! Anastasia and Keira's roomate who's a badass hacker!
There a few reasons why i couldn't give this book 4 stars or above. Firstly, the beginning started out GREAT! I was super intrigued and we kept having this avalanche of twists that just left me shocked but at around three quarters through, i did start to get a little bored. And it was a little weird because the plot was still action packed to the end and everything but i kind of lost the excitement. I also didn't really feel the romance since it does take a major backstage in the story but Marcus wasn't a bad boy, The only thing that showed he was a bad boy was the leather jacket and motorcycle boots and the bike but his character itself, not the materialistic aspects, wasn't bad boyish at all. Don't get we wrong i still loved Marcus; he was so sweet! But definitely not a bad boy!
But i did love this amazing journey! We took an amazing tour around the world and we were in hot pursuit of the bad guys! If you're into mystery and adventure then this book will definitely not disappoint!