Siren's Song
(The Storm Siren Trilogy #3)
by
Mary Weber
Publisher: Thomas Nelson / HarperCollins
Release Date: March 1st 2016
Genre: Young Adult, Fantasy, Magic, Fiction, Paranormal
Rate:
Nym and Draewulf prepare to face off in a battle destined to destroy more lives than it saves.
With the loss of Tulla still fresh in mind, Rasha's fate unknown, and Lord Myles taken over by the dark ability, Nym and the few Bron soldiers rush to warn Cashlin's queen. Only to discover it may already be too late for the monarch and her eerie kingdom. As the Luminescents are sifting through Nym's past memories and the queen is reading into her future, Nym is given a choice of how to defeat Draewulf, but the cost may be more than she can bear. And even then there are no guarantees.
With that reality burrowing into her bones—along with the guilt of the lives she will sacrifice—Nym returns to her homeland of Faelen to raise an army of peasants through promises of freedom. But when the few friends she has left, along with the world and citizens she loves, are staring down the face of a monster and his undead army, will Nym summon every element her blood is capable of controlling . . . or surrender to a different strength—one of sacrifice?
Because in the end, death may be more merciful for them all.
After the war breaking out at Tulla, Nym and Eogn seek refuge in Cashlin, home of Princess Rasha who is still in Tulla and captured by Draewulf. However, the help they receive comes in the forms of premonitions and the effects each choice they make will have not only on them, but on the whole world. Being an Elemental, Nym is the objective of Draewulf and knows that whatever she does will out everyone she loves in danger. She knows it will always come down to a war but with feuds between the lower class and the upper class, how will she reunite the nations against Draewulf? And then there's Eogan who's keeping secrets and is no longer acting normal!
Ever since i got the opportunity to review both books for the blog tour of the second book, i have been obsessed with this series! It honestly has everything i look for in a YA fantasy novel and more! That being said, i cannot believe this trilogy has come to an end!
And as soon as the book starts, you get hit by action and the awesome background of an Airship! The settings in the book was very well described and we got to visit Cashlin and Faelen! I had this git-wrenching feel throughout the bok because i just didn't know what was going to happen, who was gonna die, who wasn't. I was just expecting everything and nothing at the same time..there were some surprises and the ending was bittersweet end to the amazing trilogy.
Nym has grown into a full out warrior queen. She isn't fearless and admits it but manages to direct her people and inspire others to fight for what's right. I can't believe how much i missed my Eogan-Nym moments-they were definitely not lacking in this book and just heightened the stakes so much more!
AND MYLES!! Yeah loads of people hated him in Book 1 and then book 2 he developed into not a good character but a complex and intriguing character-he was honestly my favorite! I was so happy to see him again with all his little quirks and his hissing! Then there's King Sedric, he really kept me intrigued and i still am quite curious about him. I really liked that the author didn't try to impose a love triangle between Nym, Eogan and Sedric, it honestly would have been too much! They are just really really good friends (AHEM I'M TALKING TO YOU CELAENA SARDOTHIEN AND ROWAN)
To conclude, the tears, the joy, the TORTUROUS cliffhangers all boiled down to that Epic ending! Litches (As Nym would say)! I am really going to miss this wonderful world and those amazing characters! I cannot wait to find out what the author writes next! I AM BEGGING FOR A MYLES OR SEDRIC NOVELLA. HONESTLY I NEED A NOVELLA FOR THESE TWO.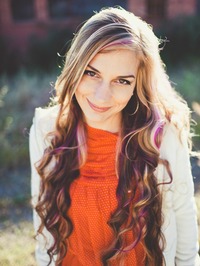 Mary Weber is a ridiculously uncoordinated girl plotting to take over make-believe worlds through books, handstands, and imaginary throwing knives. In her spare time, she feeds unicorns, sings 80's hairband songs to her three muggle children, and ogles her husband who looks strikingly like Wolverine. They live in California, which is perfect for stalking L.A. bands, Joss Whedon, and the ocean. Her debut YA fantasy novel,
STORM SIREN
and
SIREN'S FURY
are available now in bookstores and online, and SIREN'S SONG will be out March 2016 from TN HarperCollins.