The Best Kind of Magic by Crystal Cestari
Publisher: Disney-Hyperion
Release Date: May 16, 2017
Genre: Young Adult, Paranormal, Fantasy
Synopsis:
Amber Sand isnot a witch. The Sand family Wicca gene somehow leapfrogged over her. But she did get one highly specific magical talent: she can see true love. As a matchmaker, Amber's pretty far down the sorcery food chain (even birthday party magicians rank higher), but after five seconds of eye contact, she can envision anyone's soul mate.
Amber works ather mother's magic shop–Windy City Magic–in downtown Chicago, and she's confident she's seen every kind of happy ending there is: except for one–her own. (The Fates are tricky jerks that way.) So when Charlie Blitzman, the mayor's son and most-desired boy in school, comes to her for help finding his father's missing girlfriend, she's distressed to find herself falling for him. Because while she can't see her own match, she can see his–and it's not Amber. How can she, an honest peddler of true love, pursue a boy she knows full well isn't her match?
The Best Kind of Magic is set in urban Chicago and willappeal to readers who long for magic in the real world. With a sharp-witted and sassy heroine, a quirky cast of mystical beings, and a heady dose of adventure, this novel will have you laughing out loud and questioning your belief in happy endings.
Amber's not the happiest person on the planet. Coming from a line of powerful witches she isn't thrilled with being a lowly matchmaker that witches look down on. She isn't allowed into the coven or into any of the witch traditions because she isn't considered to a be a witch…*Ouch*. But when the mayor's son comes to her for help to find his future step mom who's suddenly gone missing, she can't help but agree and prove to everyone that a lowly matchmaker managed to be a hero. But she already knows who Charlie's true love is and the more time she spends with him, the more she falls for him…and the more she gets visions of his true love and their future together.
The blurb of this book caught my attention instantly and i knew i just had to sign up for this tour! I mean come on a girl falling for a guy while she can see his soulmate the entire time? Consider me intrigued!
"Do you know how hard it is to make out with someone when all you can picture is his wedding to someone else? I'd have to be blackout drunk to keep those visions from coming, and what would be the point of that?"
From the moment i started the book with Amber's narration, i knew this would be good. She's snarky and hilarious and quite bitter. I liked that balance in her character. Some characters in books are sarcastic and bitter just for the sake of it but Amber's backstory really explained why she was like that. Although she had full trust in her powers, she was completely excluded from her family heritage because she wasn't considered worthy enough to be a witch. She's happy with who she is but she just wants to be included but her mom and the rest of the coven still wished she was something other than a matchmaker. And all that kind of pushed her to be this character who masks her hurt with dry humor and sarcasm.
"'Maybe you're not a witch, but you're definitely a bitch.' Remind me to get that on my tombstone."
The romance really had this "doomed from the start" thing going on but you just couldn't help but like it-it was just so adorable! Amber can't see her own true love but she does believe in love. It's hard for her to watch people come to her to confirm that they are indeed dating/marrying their true love while she feels like she'll never have that. Being rich Charlie has had his fair share of girls throwing themselves at him but he prefers to stay clear of it all. He was a very "no BS" guy who was perfectly content with his own company. Both of them come out of that solitude they confined themselves too and start to get to know each other better.
Charlie was so cute! He wasn't your typical bad boy that we usually see in YA but a kind and kind of solitary guy that happens to be insanely rich and wears glasses! I had to point out that he wears glasses cause we don't see a lot of people with glasses in YA!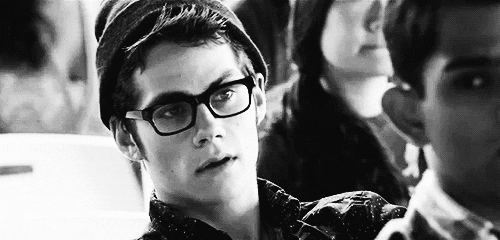 I really really hope Amani, Amber's best friend, gets her own book at some point! She a super interesting character that has visions of the future but the visions aren't really a happy experience for her. She doesn't really like her magic and so she tries to avoid it. Add that to sexy, rich and flirty vampire bar owner as her true love with a little plot twist and this book would rock!
If you're looking for a heavy book filed with plot twists, wars and complications then this isn't it. But if you want a fresh, light, funny and sweet contemporary read with a dash of supernatural and adventure then i would highly recommend this one! It can be read as a standalone but the author left a little plot twist in there and i'm definitely keeping up with book 2 because i'm really invested with these characters and i can't wait to see what's gonna happen to them next!
Meet the Characters
Amber Sand
Amber comes from a long line of witches, but she herself isnot a witch. She did getone highly specific magical talent: she can see true love.
Magical Talent: matchmaking
Likes: baking, unicorns, any and all forms of sugar
Dislikes: vegetables, tacky souvenirs, most people
Quote: " Only crazy people and Satan don't like frosting."
Amani Sharma
Amani has the power to see the future, a talent she works to suppress. Together with Amber, the two best friends made a pact to never share the details of the other's destiny.
Magical Talent: precognition
Likes: reality TV, spicy foods, planning her future wedding
Dislikes: gym class, cheap lip gloss, jeans
Quote: " You don't know for sure what the future will bring."
Charlie Blitzman
Charlie is the son of Chicago's mayor. This fame draws him a lot of attention atschool, buthehas a hard time finding people he truly connects with.
Magical Talent: being charming
Likes: dragons, tie clips, trying new things
Dislikes: paparazzi, pickles, fake people
Quote: " Who knew the world had so much magic?"
Ivy Chamberlain
Ivy is blonde, beautiful, and knows it: she's a siren, andhas the entire school wrapped around her perfectly manicured finger.
Magical Talent: manipulating the masses
Likes: cheerleading, being adored, watching boys cry
Dislikes: matchmakers
Quote: " I know what it takes to survive."
With rainbows inmy hair and stories in my head, I am a writer drawn to magic in the everyday world.
My debut novel, The Best Kind of Magic, arrives May 16, 2017 from Hyperion. Follow Amber Sand, a magical matchmaker who can actually see true love, as she takes off on a fun and romantic adventure toward happily ever after.
*DISCLAIMER* BEFORE YOU ENTER THE GIVEAWAY PLEASE READ BELOW*
This tour is a little different in the sense that every blog is running their own giveaway for one copy of the book. So there will be one winner per blog who wins only ONE copy of the book. It's totally okay to enter the giveaway in all the blogs on tour to maximize your chances of winning but if ever you find yourself winning on 2 blogs we ask that you please decline one of the wins and just claim your one copy and give the chance to someone else to win the book 🙂 And be honest when entering the giveway-i'll be checking the entries. Please respect this so it's fair!
Best of luck to everyone 😛