TITLE: The Diabolic
AUTHOR: S.J. KINCAID
SERIES: Standalone
PUBLICATION DATE: November 1 2016
PUBLISHER: Simon & Schuster Books for Young Readers
SOURCE: Bought

Nemesis is a Diabolic. Created to protect a galactic Senator's daughter, Sidonia. The girl who has grown up by her side and who is as much as sister as a master. There's no one Nemesis wouldn't kill to keep her safe. But when the power-mad Emperor summons Sidonia to the galactic court as a hostage, there is only one way for Nemesis to protect Sidonia.

She must become her.

Now one of the galaxy's most dangerous weapons is masquerading in a world of corruption and Nemesis has to hide her true abilities or risk everything. As the Empire begins to fracture and rebellion looms closer, Nemesis learns that there is something stronger than her deadly force: the one thing she's been told she doesn't have – humanity. And, amidst all the danger, action and intrigue, her humanity might be the only thing that can save her, Sidonia and the entire Empire…
FIRST OF ALL. LET'S TAKE A MOMENT TO APPRECIATE THIS GORGEOUS ANIMATED COVER.
Now a lot of people have compared this to Red Queen. It's not. Yes she goes to court, and there are politics and stuff but that's where it stops. Red Queen was awesome and then the twist that did happen kinda threw me off the series because i have a feeling the series is gonna get more predictable. The Diabolic is NOT the same! Seriously, don't compare these two!
I was quite skeptic going into this book because i'm not a huge fan of sci-fi and space books. I loved the Lunar Chronicles but i'm pretty on the fence with this genre. A friend recommended it to me and i fell in love with the cover-yes i judged the book by its cover, i have no morals-and so i ordered a gorgeous hardcover!
Also, there are two covers- a black and a white one but apparently you don't get to choose which one when you order. I prefer the white one-thankfully that's what i got!
I didn't really like Sidonia at first but she kinda grew on me after a while. And Nemesis, she was just so weird, i honestly didn't know what to think of her in the beginning. She was ruthless and yet and the same time so human.
I cannot begin to describe how awed i was at the setting in this book!!! I'm talking intergalactic races, supernovas, spaceships, galactic empires and all! It was a very complex world building so i had to reread a few times to really understand but it was totally worth it!
So from what i understood, it is a dystopian and the people live in space and different galaxies. Each territory is ruled by a Senate and then you've got the 'King' who rules all and is known as an Emperor (this is just a basic there is so much more!!!) . So the Emperor and many of his followers enforce the Hellonic religion, which kind of outlaws studying the sciences. They have high technology and all but they don't want to learn more, they believe that they have enough machines that can fix the broken ones and stuff.
Sidonia's family are heretics and they're known for it, They believe in learning. And so when things get out of hand, the emperor orders Sidonia to come to him as a hostage as warning to the heretics. And that's when Nemesis' protective instincts kick in and she decides to go instead of Sidonia.
Then you have the genetically engineered 'humans' which are known as Diabolics. And i found it super interesting how they were considered a trend and that all the families had one of them. Their soul purpose is to protect the one they've been bonded too. They apparently can't feel emotions except for the person they're bonded too. That's what was really interesting about Nemesis though she keeps breaking the definition of a Diabolic.
Tyrus. My first thought-the dude is mad. Like the Joker mad. But he held so much intrigue you just knew there was more to him-WHICH THERE WAS. I just loved his character most of all!! He wasn't a swoon-worthy character to me but he was the most intriguing one in the novel! He was sheer genius! And well all i can say without spoiling it is that you never really know where to stand with him. His character development leads you to question him and kinda go through what Nemesis does. I think his intellect and his cunning side came mostly from that hostile family he grew up in. Manipulative and cunning, that family has issues. But IT WAS SO AWESOME.
And then we have Tyrus' grandmother,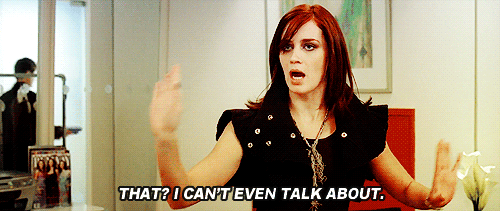 That woman needs therapy. Like urgently.
This was one of my favorite parts-the simplicity of it just made me laugh!
"Tyrus!" rebuked the Emperor. "What have i told you about killing people?"
"Yes, yes, ask you first, Uncle," grumbled Tyrus, sweeping into a bow. "But in my defense she was irritating me."
The intergalactic politics…thought i would hate it. Couldn't have been more wrong!!! It was actually really interesting and kept you totally hooked from the beginning!!! That struggle for power was there and so tangible within the Emperor's family. It was basically like Reign (the tv show) except in space.
I loved Nemesis and Tyrus' relationship. I just loved it all!!!!!!! I can't say a lot about the romance without spoilers so let's just say it was awesome!! A bit predictable but it was still awesome.
I don't know if it's because so many things have already happen and there nothing left to happen or because the focus was not supposed to be on something happening. I don't know i just felt the very last pages could have had more. Needless to say it's only a teensy detail because my heart stopped a couple times throughout the book! It was NEVER dull that's for sure and the twists keep coming.
But seriously what an amazing job the author did!!! This was such an epic journey and to have it all in one book? It's just mind blowing. This is a gem, Go spend your money and buy it.
GO PICK THIS UP NOW. SERIOUSLY. AND GUESS WHAT. IT'S A STANDALONE.
I want more books of course so after a little stalking on twitter, i found that the author signed a contract for another two books BUT she said that this book will remain a standalone. So since it's a HUGE UNIVERSE, she can really write whatever she wants! i'm sure there are other characters and i don't think she'll link it to this book. So if you're looking for an amazing standalone, pick this one up. I guarantee it's a standalone and totally worth it.