TITLE: The School For Good And Evil : The Last Ever After
AUTHOR: Soman Chainani
SERIES: The School For Good And Evil Book 3 (Trilogy)
PUBLICATION DATE: July 21 2015
PUBLISHER: HarperCollins
SOURCE: London Bookhaul
RATING: 5 STARS!!!

Goodreads Summary

In the epic conclusion to Soman Chainani's New York Times bestselling series, The School for Good and Evil, everything old is new again as Sophie and Agatha fight the past as well as the present to find the perfect end to their story.
As A World Without Princes closed, the end was written and former best friends Sophie and Agatha went their separate ways. Agatha was whisked back to Gavaldon with Tedros and Sophie stayed behind with the beautiful young School Master.
But as they settle into their new lives, their story begs to be re-written, and this time, theirs isn't the only one. With the girls apart, Evil has taken over and the villains of the past have come back to change their tales and turn the world of Good and Evil upside down.
Readers around the world are eagerly awaiting the third book in The School for Good and Evil series, The Last Ever After. This extraordinary conclusion delivers more action, adventure, laughter, romance and fairy tale twists and turns than you could ever dream of!

MY REVIEW

OH MY GOD IT'S OVER I CAN'T BELIEVE IT!!!! THE TRILOGY IS OVER!!!!!!!
Sophie is with the handsome schoolmaster, her true love who is just waiting for her to take his ring and become his queen so that Evil can win. If Good always wins because it has love on its side then Evil will have love, and they will start winning. Agatha on the other hand is back in Gavaldon with her prince, Tedros, But instead of the happy ending she always wanted for the both of them, she gets quarrels with her prince who wants nothing but to go back to Camelot and become King with Agatha at his side. But Agatha doesn't want to be queen, she's scared. If both girls are with their true love then why is their fairy tale not ending? If another fairy tale doesn't start soon, the sun will die and so will the fairytale characters. Closing that fairy tale and getting their Never and Ever afters is imperative, but how? How can Agatha be happy without Sophie and vice versa? With the schoolmaster posioning her brain, Sophie finally becomes his queen and the reign of evil begins while Agatha and Tedros find "unexpected" allies to help them in their fight against Evil…But old villains such as Hook and the Evil queen are rising, ready to change their fairytales and change the world into one where Evil wins.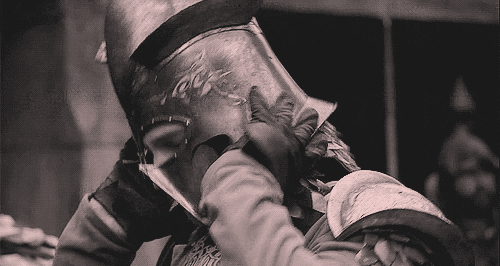 And the schoolmaster was all
And then you have these undead fairy tale characters coming back for revenge!!! Just how much more awesome could this book have been?? I loved EVERYTHING about it!! I know this isn't really a review but i just wanted to express how much i will miss this series! I'm not a fan of middle grade books but this one-this one never even gives you the feeling you're reading a middle grade book! And on top of that the characters grow so yeah i'd even say it RIVALS Harry Potter!! The ending was perfect!! I JUST WANT MORE. If the author is not gonna write Sophie and Agatha's story then maybe same world or something?? If not i'll just keep rereading these books until i get tired of them,,which is nowhere in the far future!
JUST GET A COPY PEOPLE!!! please 😛
CHECK OUT THE GORGEOUS TRAILER